Stanzeski Cheese, Wine, and Charcuterie celebrated their Grand Opening on September 15, 2017.   This shop is located in Georgetown, Texas.  Congratulations to Jan and Chester Stanzeski!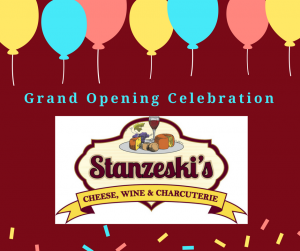 Cheesemonger, Erika Bongort is a Certified Cheese Professional, who started working at the shop last spring.  Her knowledge and experience is a valuable asset to the new business.  This is what Erika says about her new job:
"I started this new cheese adventure six months ago and have loved every minute.  I can fully utilize all of my skills.  It's been great."
Here's the list of videos:
#1:  https://youtu.be/vWQb6NZ5FbI
#2:  https://youtu.be/vtlNVvxd4RQ
#3: https://youtu.be/hoOWEaAF45Y
#4:  https://youtu.be/58EtdbJnZs4
#5:  https://youtu.be/8GETlszkUKw
The nice guitar music was provided by John Morgan.   www.morganguitar.com.  Thank you, John.