Lindsey Schechter of Houston Dairymaids, Part 2
Written By: Jamie Glover Dabbs – February 20, 2013

Q:  How did started Dairymaids start?
A:  We started the business not really knowing what there was concerning Texas cheese makers. At the time, there was only a small amount of Texas cheese making it into Houston. Then we discovered Pure Luck, the Veldhuizens, and the Mozzarella Company.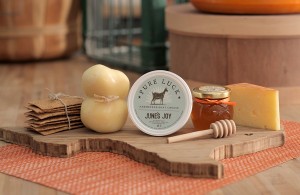 Our first offering of Texas cheese was as the Midtown Farmer's Market. Monica [Pope] announced that we would be at her market and we were swamped from day one. I remember the first order we made from the Veldhuizens was 3 wheels. We brought it to our first farmers market and immediately sold out of all 3 wheels. We couldn't have been happier. I remember calling Stuart and saying that we were coming back and we were going to stock up! We then spread out to a second farmers market – the Rice market on Tuesdays.
Q:  Can you tell us where you see Dairymaids in 5-10 years?

A:  I've been so pleased with the way the business has developed organically by the talented people who have come to work here. We're so lucky that we have been on the retail side now for over a year and are loving it. It gives us a different opportunity to talk to people about cheese. A lot of chefs come in to do the tasting as well, so it's another avenue for us to work with our chef customers. We want to build on that and keep improving our little building and property.
Q:  What prompted you to incorporate retail?
A:  Before we'd always sold retail just at the farmers markets. It's tough in the middle of the August to sell cheese outside. Also, people kept showing up at the warehouse asking to buy cheese. So, we decided to give it a shot. We started with just the weekends and are now open 6 days a week.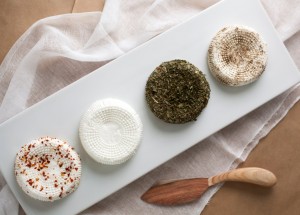 Pure Luck Basket Chevre
Q:  Who are the crucial members of your team?
A:  Reymundo is our driver. He has the most contact with the cheese makers and customers in person because he goes to pick up the cheese and does all the deliveries. Elizabeth does our wholesale, with the help of Shannon, and Haley runs our retail side. We also have a talented group of part-timers who assist with retail and events. 
Q:  Tell us a little bit about your American Cheese Society experience.
A:  ACS has a conference every year and I've been going for 7 or 8 years now. It's now, more than anything, a great opportunity to see people that I only get to see once a year, as well as an opportunity to discover new cheeses. Last year I was invited to be a judge again which was very exciting and educational for me. Working with technical judges and understanding how they look at cheeses really tested my ability to articulate and to critique a cheese.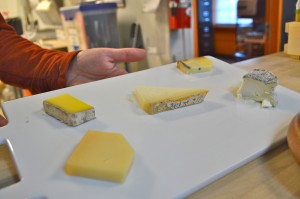 Q:  How many cheeses did you judge?
A:  They usually have over a thousand entries. They break the judges into teams and each team is assigned certain categories. Each team judges roughly a hundred entries. Then, every judge has to taste all the 1st place cheeses in each category – it's a real test of your endurance.
Q:  Did you get to meet/talk to the other judges? Did you find their background matched up with yours?
A:  Half of them are technical judges – mostly food scientists and dairy professors- and half of them are aesthetic judges  – mostly cheese mongers like me. There are some incredible cheese people in that group every year, so it's great to be around them.
Q:  Food scientists are an interesting topic to bring up because that's a really recent field of people that have been added to the food industry. What are your thoughts on that position? Being a cheese monger and making cheese is a very old profession…
A:  I find it fascinating what they've been able to do in terms of breaking down the flavors in cheese. That they can identify traits of cheese made from the milk of grass-fed animals versus non-grass fed, pasteurized versus non-pasteurized. It's fascinating, really.
Q:  You sell a number of raw cheeses here.
A:  We kind of show a preference for raw cheeses.
Q:  Has your market responded to that?
A:  Yes, I think they appreciate it. We don't get many people that are specifically seeking out raw cheese, but they do appreciate the opportunity to purchase raw cheeses. I think it's a signifier that the cheese is more likely a small batch, farmstead cheese.
Q:  Do you find that it's smaller farms that do make raw cheeses or does it run the gamut?
A:  I guess it runs the gamut, although it's fortunate that if you are making raw cheeses you don't have to purchase an expensive pasteurizer.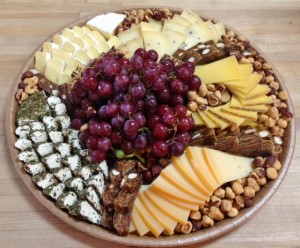 Q:  Do you have any requests from your restaurants requesting raw cheeses or pasteurized cheeses?
A:  Not often. At times there's a bit of nervousness about the legality of serving raw milk cheeses, and we let them know what the laws are and why it's OK. There's sometimes a misunderstanding of the raw milk laws in this country. If a cheese is aged for 60 days, then it's legal for it to be made with raw milk. Your younger cheeses – your fresh chevre, for instance, will be pasteurized – but your aged cheeses, lower moisture cheeses, can be made with raw milk.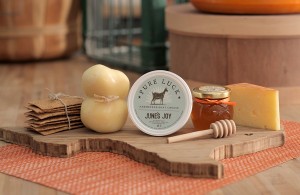 Q:  In 10 years, do you see yourself in the shop? What DO you see?
A:  I think we want to continue to build our expertise and to find these gems throughout the country. Nothing excites us more than finding a great new cheese or cheese maker. I don't know what the size of the company will be, but I know our goal will always be to find those cheeses and share them with our community.
About the Author:   Jamie Glover-Dabbs is a fourth generation Houstonian and the Director of Social Media for Lasco Enterprises, the restaurant group who owns three locations of The Tasting Room in Houston, four locations of MAX's Wine Dive in Houston, Austin, San Antonio, and Dallas, and Boiler House Texas Grill & Wine Garden in San Antonio. She has interned at Blue Heron Farm, works part time as a cheese monger at the Houston Dairymaids, and is an avid cheese maker in her spare time.
PHOTO CREDITS:  Jamie Glover-Dabbs